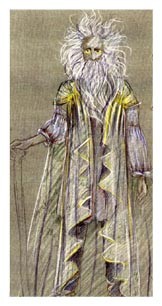 'It is an ancient Mariner'
The potential of 'The Rime of the Ancient Mariner' as a subject for musical development was first suggested by Richard's friend and colleague, the jazz trombonist and bandleader Chris Barber, who had acquired an early edition of the poem in of all places, New Orleans. It was Chris who commissioned the original composition of the work.
In 1994, Richard took a music drama version of the piece to the Edinburgh Fringe Festival where, with the addition of mime, dance and surrealistic lighting, it delighted audiences and critics alike, attracting enthusiastic reviews.
Designs for The Rime of the Ancient Mariner project are the copyright of Paula Kenevan and Simon Kenevan. See Terms of Use.